SKILLS BACKED BY 

YEARS OF EXPERIENCE
We are based in Victoria, Texas, but that doesn't stop us from talking about whatever is happening in the nation, worldwide or locally!!
OUR STORY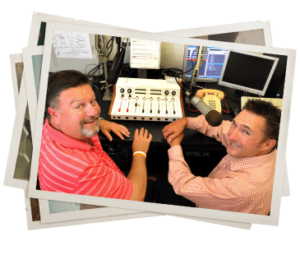 Wade and Carter grew up thousands of miles apart, Ash in Canada and Brent here, in Victoria. Both played lots of sports and are still sports junkies today. Work led to a friendship and personal relationship each has with few others. Their lunches became sounding sessions where many of the world's problems were solved over a plate of Tex-Mex and glass of 'half and half' tea.
Carter developed a slightly demented following hammering local media for it's inconsistencies and inaccuracies and folks started saying, "Why don't you two get a radio show?". Little did they know that had been discussed for over a year and, almost literally overnight, it came into being.
With Founding Sponsors VeraCruz Restaurant, Wendt Electrical, CivilCorp/The Office, and Empire Lodge, along with folks who don't really want to be associated with these two but like the concept, the show is on the air!
Wade and Carter each have 'day jobs' and are doing this for fun and to give back to Victoria. The format has been missing and there's lots to discuss here in Big V. Here's hoping you enjoy their banter and feel like you've simply joined them for lunch!!
OUR TEAM CONTAINS 
EXCEPTIONAL HUMANS…
We are a team of dedicated professionals, ready to talk about whatever! News. Sports. Gardening. Whatever is on your mind – we want your questions!

ASH WADE
Pancake Turner, wade and carter show
Ash Wade, was born and raised by moose in Calgary, Alberta, Canada. He grew up in a bi-level igloo in an upper middle class family unit that at any time had 2 reliable dog sleds and a third on ice blocks on the front drive.  Ash graduated from Mount Royal College in 1990 and traded in his dog sled for a car when he attended Washington State University (class of '94). He began his broadcasting career spinning tunes to the neighborhood from his front steps on 1 watt flamethrower CHOW.  Ash began his play by play career on the snow covered streets of Calgary, calling street hockey games at the tender age of 12.  He has called sports from college hoops to pro baseball.  He's a huge sports fan with loyalties to Calgary Flames, New York Rangers, Calgary Stampeders, Cowboys, Astros, and the Wazzu Cougars.  Ash is married to Cheryl (who has put up with his crap for 20+ years) and they have two daughters, Tylar and Ashton . Family also includes 6 rescue dogs and one lab left behind when his mom left home to pursue an acting career. A veteran of morning radio in Victoria, Ash spent 2 years at KZ105 and then 12 years as co-host of the Breakfast Buzz on KVIC and will have talk radio experience as of November 1, 2016.

BRENT CARTER
The Mouth, wade and carter show
Brent was born in Corpus Christi, but raised in Victoria. He was educated at Smith Elementary, Howell Middle School and Victoria High School ('81). BC earned a BBA – Finance from The University of Texas at Austin ('86). He has been an Insurance Agent for over 25 years, all over Texas – Houston, Dallas, The Valley and Victoria/Rockport. He is a huge sports fan with loyalties to the Cowboys, Astros, Spurs and all things UT. Brent is the father of three great kids, all exceptional athletes. Kendall (20) is a Junior at A&M, Katie (19) is a Freshman at A&M, and Kyle (17) is a Junior at VEHS. Kendall was a multi-time All District basketball player for Yulonda Wimbish and Mike Smith and Katie was a multi-time All District volleyball player for Jamie Pauley. Kyle will begin his varsity career this season in baseball for Wes Kolle at VEHS. Brent is conservative politically, but a pushover in person. Christian raised at Northside Baptist Church. Hobbies include Golf, Fishing and Hunting. He has a secret man crush on Ash Wade and hopes Ash is as funny on the air as he is at lunch!!
HAVE SOMETHING TO TALK ABOUT?